This will be one of the biggest blogs I write and I've titled it how to use LinkedIn for network marketing.  About a year ago, I saw LinkedIn as a up and coming medium on social media that nobody was paying attention to.
To be real frank, still today nobody really pays much attention to LinkedIn and that's your gain completely.  That's super excited to say the least!
In this post, I'll reveal "in step-by-step fashion" how to use LinkedIn to recruit leaders, gain unlimited leads, how our LinkedIn connections went from 3k to over 10k and everything in between.  Read this entire blog post and you'll be real happy you did!
This post is all about LinkedIn but make dang sure you take a look at this one too:
It will teach you precisely what you need to do each day to become a top earner but…
Why Using LinkedIn For Recruiting Is Best
For many of you, Facebook might just get irritating from time to time.  With all of the nonsense rules and getting blocked from time to time from sending messages kinda shuts your business off.  Of course, going to the mall isn't a choice you want to make either.
Along comes LinkedIn.  Why is it so awesome?
When I think about how to use LinkedIn for network marketing, the first thing that comes to mind is the ability to message literally anyone & find your perfect prospect anywhere in the world.
People on LinkedIn are looking to refer business or looking for opportunities themselves.  That's the sole reason why they are currently on LinkedIn.  They aren't sitting on LinkedIn checking out gramma's cookie recipe.
Another reason I absolutely LOVE using LinkedIn for recruiting is the average user makes over 100k.  This simply means they have money.  I typically don't have to worry whether or not they have the money to get started.  They've already got it.
Last but not least, LinkedIn allows you to be super direct.  Remember, people are on LinkedIn for business.  They are there for business reasons.  You don't have have to dance around that subject anymore.  Typically, they will want to take a look at what you've got.
LinkedIn Prospecting Tips — Before You Start
Okay, we have figured out that LinkedIn is for sure our gig.  You know that you love it because of the reasons listed above, right?
Pretty cool, but what do you do now?  What is your first step?
TARGET MARKET!  Yes, you must now determine your target market, the exact person you are wanting to go after.  We all work better with different people.  Who do you really want to have on your team?  Who is that person?
If you fail to choose a target market or a perfect prospect, you'll not be able to put a really good profile together.  I mean, how could you put a really good profile together when you don't know who you're speaking to?  How will you post when you don't know who you're talking to?
Very Important!  How To Use LinkedIn For Network Marketing
Let me help you.  You have to think in terms of occupations or careers but…
Do you like working with women, emotional people, type A sharks, medical professionals, caring individuals, salon owners… Who is it for you?
For me, I love working with emotional women.  I'm an emotional guy and simply don't work well with type A personality people.  I don't like it.  Therefore, I shouldn't go after people inside of those careers.  In this post, I hope to bring some light on who you might want to go after and build an audience around.
MLM Prospecting On LinkedIn
If you love emotional people (like myself), you might consider teachers, non-profit organization leaders, pastors or church leaders.  Think about what careers would lend to a super-caring person.

If you like type A personality – go get um – type of action, then anyone in sales is perfect for you.  These people are very direct and you'll need to have thick skin.  You'll want to pick a niche "inside sales".
Sales is a huge category, so you need to understand to pick a category smaller like car sales.  In fact, you may even go after a certain car make sales person.
If you like analytic folks like accountants, CPA's, mortgage professionals then certainly go after them.  One last final thought about target market.
Take you traditional career into consideration.  If you can recruit people that have been in your same field of work, that makes a lot of sense.  This way you'll have instant rapport when you talk with them and they will trust you entirely way faster.
On to the next step.  Please pick your target market before you go on.
How To Use LinkedIn For Network Marketing | Your Profile
Your profile on LinkedIn is increasingly important.  In fact, it may be the MOST important thing you ever put together.  I want you to think of it as a job interview.  When you connect with people inside your industry, they're going to head to your profile to see if they want to connect with you.
In this section, I want to comb through your profile, what you should have in it & why.  The first thing you've got to understand about recruiting on LinkedIn is…
Your profile needs to be optimized.  This means, you have the ability to rank your profile so when a person searches for a term or phrase, they find you.  Now, we get about 800+ clicks a month from organic traffic.  That's traffic that I don't have to pay to get.
As we go through the profile, keep this in mind and understand this is what makes LinkedIn recruiting really fun!


These are my images from my LinkedIn profile.  You MUST have professional images and a professional banner inside LinkedIn or you'll lose.  Yes, I'm 100% serious about that.  You'll lose.
Professionalism matters so much with recruiting on LinkedIn.  Make sure you're dressed for the occasion in your picture and in this case, that means professional.
It's like showing up to a job interview.  People are going to judge you based on your dress.  Make sure in your LinkedIn profile you make sure and help people see how awesome you are.
Your banner is easy to create with a company called Fiverr.  You can head to Fiverr.com and get that done or just have us do it for you.  Reach out to us when you have an opportunity.
This is so critical when you're looking to recruit mlm distributers on LinkedIn.  Do research inside LinkedIn on a keyword inside your target market that you want to be found by.  Mine is "network marketing trainer".
As you can see, it certainly can be a phrase or single word as well.  It doesn't have to be just one word.  You now want to put that phrase inside your name slot if you can.  If it doesn't look all weird.  You can see above how I did it.
Your Headline – Why Use LinkedIn For Recruiting
This headline or tagline isn't for you.  It's to tell your audience who you serve and what you do for them.  It's about speaking to them and letting the reader know they're on the correct page.  This is incredibly important.
Do you understand why figuring out your target market on LinkedIn is so dang important?
Obviously, the term you've selected to rank for, you're going to want to put it inside of the headline or description.  This is the 2nd place you need to have this keyword.
Next on your LinkedIn recruiting journey is your summary.
As weird as it sounds, the summary doesn't matter too much with SEO.  You will want to write it concentrating on them, your reader.
You want to let them know what you can do for them, why you're the best in your field and how to connect with you.  In other words, what should they do if they want to connect with you?
If they want to take the next step, what should they do?  This is what the summary is for.
Let's now take a gander at your experience.
A couple things to note about your experience inside LinkedIn.  You want to fill this would completely.  Everything you've done in the past, you want to fill this out.
This is the 3rd spot inside your profile that really matters.  The title inside your job descriptions is another place that matters significantly.  Why?
Because it greatly affects your SEO and rank inside LinkedIn.  You'll want to put your keyword in the title of any jobs that make sense to you.  Like I said, this is very important.  This may even effect which keyword you choose to go after.
How To Use LinkedIn For Network Marketing — Gaining Followers
I hope your LinkedIn profile is coming together GREAT!  Or at least you have lots of notes on what to do!  The 4th and final place where you will gain massive SEO or ranks in the search engine is how many connections you have.
On LinkedIn, you can connect with 25,000 people.  If you do this correctly, you'll be able to have 25,000 connections within your target market.  The person with the most targeted connections wins on LinkedIn every time.
This is one of the biggest reasons why I think LinkedIn is the best place to recruit new reps into your team.  It's simply that good!
Let's go get some connections.  Once again, you need to think about your target market.  Your going to be searching for your target market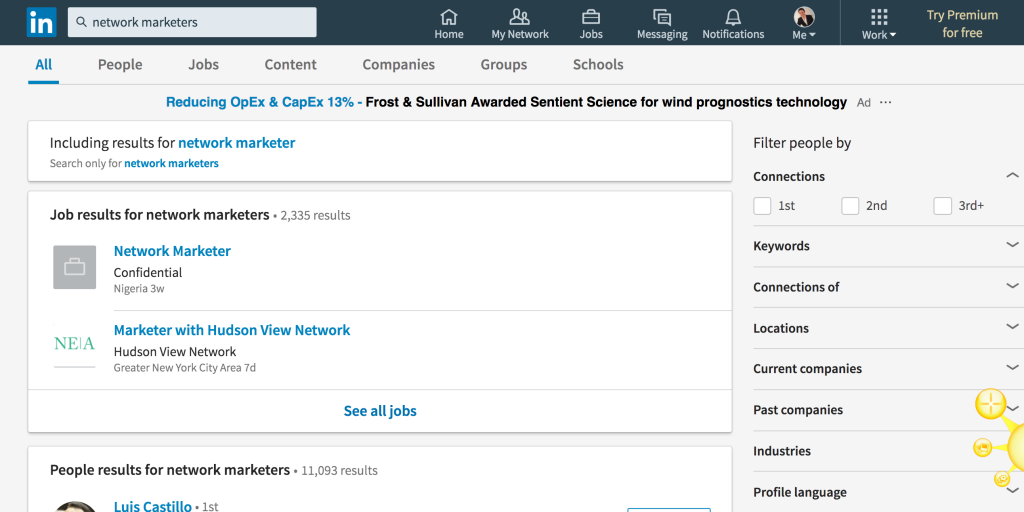 So, a picture is worth 1,000 words, right?  I thought so too.  You'll see at the very top you'll want to type the kind of person you're looking for.
You type in "Real Estate Agent" or what ever your target market it.  You can narrow that search on the right hand side by selecting the location or certain keywords.
You'll want to select "2nd connections".  This means LinkedIn connections that are connected to someone your connected to but not connected to you as of yet.
Then…
Just start clicking connect as that sends a connection invitation to them privately.  I never send a personal message when I do this.  Simply that automated message that LinkedIn provides is plenty good enough.  Now, we've connected with people.
Your goal should be to connect with 100 people a day.  One of LinkedIn prospecting tips is, it will only take you about 15 minutes.  So simple!
Now, we've got to connect to those who have accepted our connection every single day!
Select my network at the top and then click on "See all" on the left hand side.
This allows you to see all of your connections and is sorted by recently added at the top.  You need to keep track of where you left off of the day before.
Then, I just send them a message to start engagement and mine looks like this:
I will then message everyone that is new to me and get a conversation going.  LinkedIn recruiting is that easy.  Very Very Simple!
MLM Prospecting| LinkedIn Recruiting Daily Routine
It's simple but I want to detail it out for you.
Determine your target market.
Complete your profile in a professional manner.
Reach out to 100 people every day.
Connect with those that connect with you.
Continue conversations to get to a number.
Here, let me show you a conversation I had with a girl this week. (She ended up joining)

How To Recruit MLM Distributers | Real Conversation
Let's analyze this conversation from LinkedIn.  It's actually pretty simple.  I'm always looking for an in or a way to build rapport like making a friend.  Simply making a friend will cause you to create more new reps in your team than ever before.
Find a commonality and dig deep inside that item.  The next phase is simple when recruiting on LinkedIn.  You just ask if they're open.  Remembering that we're on LinkedIn & LinkedIn is all about creating new opportunities.  This simply means you're able to be rather direct in your communication.
You simply ask if they're open to more income and they will answer yes or no.  Most of the time if you build rapport correctly, you'll find they'll be open.
Then it's off to simply ask for the phone.  Now, this is where most people get all wacko.  Don't get all weird.  If someone wants to make more money and you have an opportunity, you have to get on the phone to build rapport & show them your opportunity.
This is the next step in the equation.  They know it and you know it.  Simply ask for their number.  More often than not, they'll give it to you.  Just don't have any weird energy towards it.
I can't get into what to say on the phone and I know that's where your mind is.  But I do want to give you some network marketing tips for calling here:
Let's Some Up…
How To Use LinkedIn For Network Marketing To Recruit More Solid Business People Into Your Team!
You've noticed that LinkedIn is a fabulous way to recruit people into your team.  You also know step by step on how to set up your profile for success.
I showed you exactly how to reach out to other people and have lots of conversations going on.
Remember…  100 connections a day will take you about 15 minutes.  If you just do that and get on the phone showing your presentation, you're good to go!
If you wanna know what a top earner does each day — click on the post below!
Talk soon,
Terry J Gremaux
"The Live Networker"
PS…  Do you want more qualified leads, wanna know EXACTLY what to say & how to recruit them onto your team…
And SEE it in LIVE ACTION?
SaveSaveSaveSaveSaveSave
SaveSaveSaveSave