Networking on Linkedin, oh has it been a crazy journey.  It was the dreaded winter of 2014 & the frigid Montana temperates birthed everything you will come to see in this blog post.  2 pairs of wool socks covering my fee & 2 sweatshirts just to keep warm in our basement.
I want OUT of my job badly but had no idea how I would make that happen.  Introverted me ran over to the mirror to practice my script & then I'd cold call another realtor.  Oh my, this was horrible!
Before I finish my story, make sure you pick up our LinkedIn Course at NO COST.  Just click the below ORANGE button to get started.  Oh yeah, if you like this post, PLEASE SHARE!
Over the past 8+ years we've generated 50,000 leads using the power of LinkedIn & authentic relationship building to create magic.
This newsletter will share with you everything I've learned to create monumental results.
With my head in my hands & tears flowing through my fingers, somehow I knew I needed to go through the pain of failure.  Let's face it, cold calling sucks!
From that moment on, I set out on a journey to make sure I NEVER had to face the fear of cold calling another individual that didn't want to be contacted.  This is where networking on LinkedIn started for me.
Inside this deep blog post, I will share with you the exact process I've used since that fateful day to create 50,000 leads, hundreds of thousands of dollars with never making another cold call.  Oh yeah, my networking on LinkedIn scripts are hidden in plain sight!
How To Network On LinkedIn Professionally
Before we jump right into the how-to's, we need to dive into the mental game of LinkedIn.  How we think about networking on LinkedIn is by far the most important nugget you'll receive from this entire post.
It's very simple to teach the how.  I want you to get hooked on the mental piece of the game.  Everything we do here at TheLiveNetworker is based in Generosity.  This means that my objective is to have a mutually beneficial conversation.
In case this is new to you, this simply means that we will both benefit by having a conversation.  I take "sales" out of my mindset.  Stop the madness & lack of care in the marketplace.  Too many folks out there are sales happy & it creates a lack of success.
My goal ALWAYS is 2nd level.  Let me tell you what I mean.  When I am networking on LinkedIn, I always think about the people that my potential prospect knows.  I don't think about "selling" my first level person.
If you always have your mind set on the 2nd level, you'll always make the appropriate move.  Through this method, we generate an amazing amount of referrals & a crazy 24% closing percentage.  It works!
The 2nd Level Principle
Here at TheLiveNetworker, we operate by the 2nd level principle.  This means we ALWAYS focus our attention on level 2.  Our prospects know hundreds of people & it's our goal to make them love us so much that they want to put referrals in our life.
This principle protects us from potentially making a wrong move just to make a sale.  Keeping ourselves rooted in generosity will always pay huge dividends long-term.
Before we get into the details of how to network on LinkedIn properly, we need to touch on your LinkedIn profile.  I will not go into the fine print because I have a step-by-step blog post that lays out everything you need to know.  Get it here.
If your LinkedIn profile isn't optimized correctly, you'll generate less than desired results.  This is why.
You connect with another individual on LinkedIn.  They head on over to your LinkedIn profile to check you out & see if you're worthy of connecting with.  They are really seeing if you fit into their priorities & if they will gain value by connecting with you.
Please don't waste a bunch of time, effort & energy until your LinkedIn profile is complete.  Many people have difficulty with this process & that is why we have examples.  Oh yeah, we can help you too!
Who Is Your Target Market To Network With On LinkedIn
Do you have a strategy of location, keywords & who you really desire to work with?  If not, we need to fix this.  You'll see a pattern.  I have a full blog post on how to create a target market strategy for LinkedIn Marketing.  Get it here.
Everything we do on LinkedIn, we do for our target market, our perfect prospect, not for us.  We are always thinking about the perfect person that you'd like to meet every single day.
A little word of advice.  The more niche you become the more powerful your brand.  I seriously would like you to write that down.  It's too dang important.   Be niche, not general.
Think about who is perfect for you instead of who can you do business with.  If you'd like help with this, our branding expert Felicia D Gremaux is standing by awaiting your call.  She'd love to help you!
Let's Get Started Networking On LinkedIn
You know can either type a keyword inside the search box or just press enter.  It's up to you & your target market strategy.  In this case, we will simply press enter.
You now have options called "filters" to find your target market prospect.  Before we go further, we want to select people.  After all, you are looking for people, aren't you.
As a note, if you'd like to search companies, posts, jobs, groups, etc., you can do that here as well.

You want to now select "2nd" under connections.  You'll want to do this each time you perform a search.  LinkedIn allows you to connect with 2nd connections or connections of your connections.  Any further away in seperation, LinkedIn doesn't allow you to connect.
Of course, 1st connections are people already connected to you therefore you would want to find them in this search.
You then want to select a location.  Please don't just choose the USA.  You need to have a strategy here.  How will you ever scale your efforts to create more networking on LinkedIn opportunities?  We always recommend people to start out in their back yard.
If you'd like to select a current company, you can do that as well.  I would get as highly targeted as possible because being niche will always bring a higher level result!
Finding Your Perfect Prospect
To find your perfect prospect by networking on Linkedin, your search should look similar to the above image.  I want you to pay attention to the location & current company.  You don't have to do this but the more targeted you can be, the better off you'll be!
Now, let's get some results.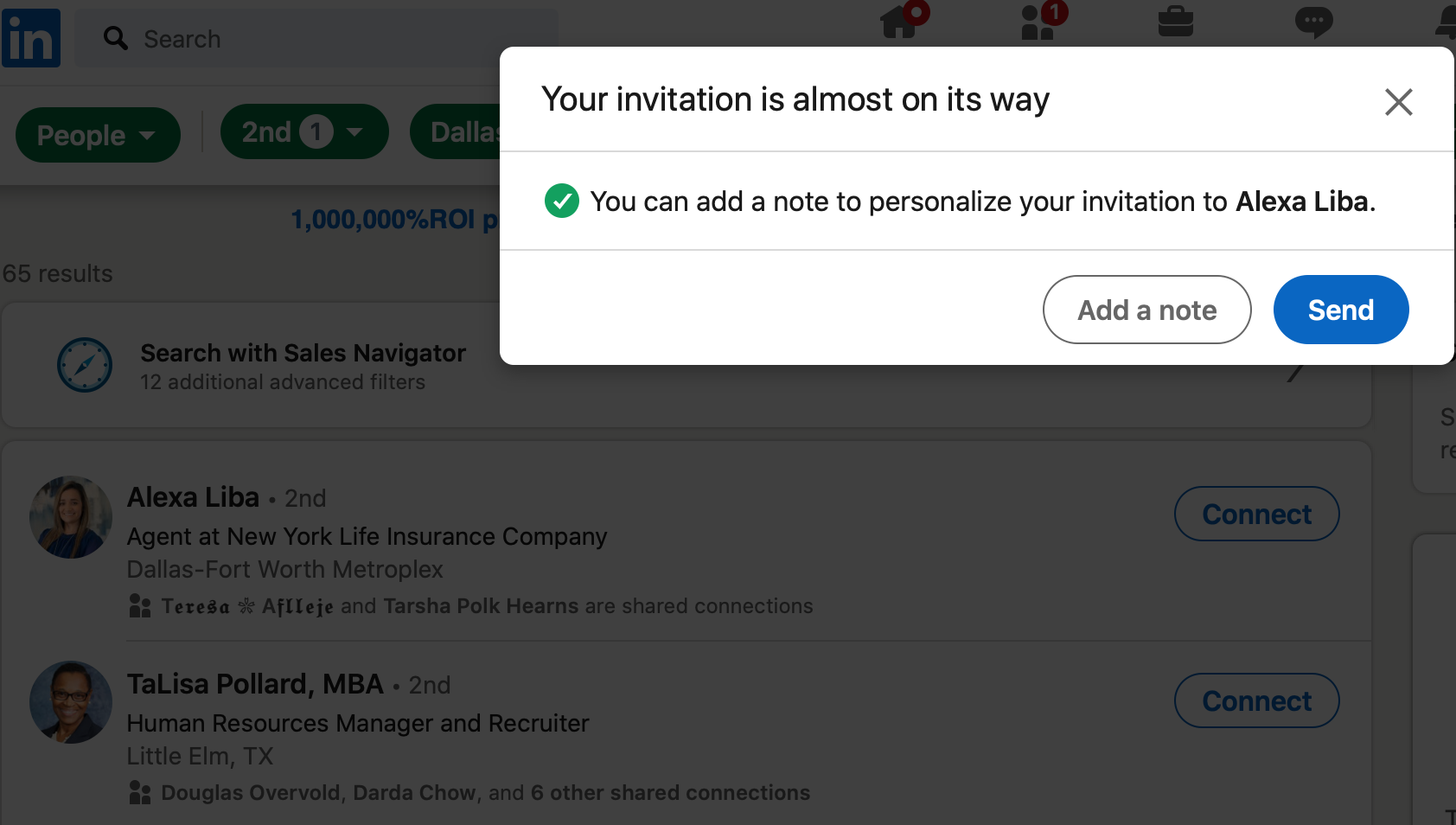 Now that I've got my search executed with all of my potential new prospects & friends, it's time to connect with them.  All you do from here is click connect on each person & send.
We've tested sending a note with the connection request and it doesn't help at all.  I highly encourage you to simply click send.
You'll want to space your connections out in 15 second increments.  Yes, actually time yourself.  This protects you from getting restricted.  It's very important if you want to keep your account.
How many should you send?  This is completely up to your account.  I will say 50 to 100 per day.  Some accounts that are used more often will be able to have more connections.  You'll have to play this one by ear.
My Networking On LinkedIn Scripts
Over the last 8 years, these LinkedIn scripts have changed a bit.  These are the actual scripts we use currently.  Yes, I'm actually giving them to you.
Once a LinkedIn connection has accepted your invitation, you'll want to start this sequence.  This is where you actually start networking on LinkedIn!
FirstName,
Thank you! I am looking forward to getting to know you. LinkedIn is terrific but I really like to network together & create mutually beneficial relationships!
This way I know how to refer & connect YOU with the right people in my network.
Are you open to a call so I can learn more about what you do?
Looking forward to hearing your story.
Cheers,
Terry Jay +1.406.366.9280
And when they say some version of YES.
Sounds great, networking is the name of the game! What is the best phone number to reach you?
And when you receive a phone number from them…
I'm looking forward to meeting you. I made it very simple. Just click on my calendar below to find a time that is most convenient to you. https://calendly.com/thelivenetworker/connection
Happy new year!
Looking forward to talking with you!
Cheers, Terry Jay +1.406.366.9280
PS… Can you please let me know as soon as you grab a time?
The Networking On LinkedIn Daily Routine
There it is, my exact process that create 50,000 leads in the last 8 years.  We now travel the world & run our business at the same time.  These are the exact LinkedIn scripts we use every single day.
Are you ready to put this system into practice?
Just follow the process outlined in this blog post.  We will not talk about conversation because I have an entire LinkedIn Leads conversion post donated to teaching you what to say, how to treat your prospects on the phone & how to convert leads into sales.
It's as simple as this.
Connect with 50 – 100 people every day
Send message 1 to new connections
Answer any unread messages
The Condumdrum & The Solution
January of 2020, I was on the beach in a meditative trance allowing the deafening sound of the pacific ocean take me away.  I received an insight that you, the business owner, is time poor.  You are busy.  You don't have time to invest 2 to 3 hours into LinkedIn every single day.
This is the problem.  Time.  Life will continue to always get in the way so we decided to change that.  You can get the details here.
We decided to act upon this intuition to make business easy for you.  Imagine taking all of your time that you currently have tied up into prospecting & transitioning that time into sales.
Prospecting is simply a means to an end.  It makes you no money at all.  You only make money presenting or generating referrals.  It's time to partner with you to create huge ROI.
If you have the time or want to take the time, go ahead and implement this daily routine.  It's created hundreds of thousands of dollars for us.  But imagine yourself spending all of your time in money making situations.  What would that mean to you?
With Generosity,
Terry Jay Gremaux
+1.406.366.9280
PS…  If you enjoyed this article and got even a little piece of value from it, it would mean the world to me if you commented down below.  If you really love it - SHARE IT!
This helps me become better at everything I do to bring better content to you.  I appreciate you!
PPS… Would you like to increase your enrollment percentage 250%? How about your referral percentage by 300%? This (CLICK HERE) is how we did it!